About Us
Pink Garlic is a Indian takeaway in Bromley. Why don't you try our Saag Aloo or Chicken Chettinad?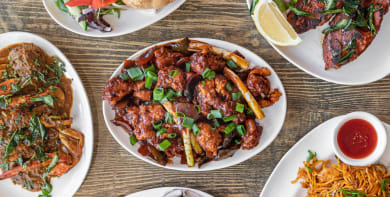 Reviews
96 reviews
Monique
"The food was delicious, full of flavour. Highly recommend :)"
24/05/2020
Ian
"Great quality- definitely recommend!"
09/05/2020
Stephen
"Lovely food really good quality would highly recommend"
08/05/2020
Vanessa
"Love Pink Garlic. Food was delicious (as always). Good size portions and really nice flavours. Extra bonus of supporting a local and friendly business"
30/04/2020
Menu
Assorted Indian Hors D'Oeuvre
A combination of chicken tikka, seekh kebab, samosa & onion bhaji
£4.95
Chicken & Chips
Fried chicken & chips with peas
£3.75
Chicken Chaat
Tangy mogul chicken salad, cooked with fresh lemon juice
£3.55
Chooza Pakora
Strips of chicken breast seasoned with savoury spices, lemon juice, then dipped in batter
£3.75
King Prawn Butterfly
King prawns delicately cooked with light spice, breadcrumbs & deep fried in batter
£4.95
King Prawn Delight
King prawns delicately marinated in mixed herbs & spices & cooked in a clay oven
£5.35
King Prawn Puri
King prawns well fried, slightly spiced, served on homemade bread
£4.95
Medley Kebab Starter
Tenderised pieces of lamb, breast of chicken, minced lamb, grilled along a skewer with onions, green peppers & cherry tomatoes
£4.50
Paneer Shashlik Starter
Chunks of vegetarian cheese marinated in tandoori sauce then skewered & grilled. Served with tamarind sauce
Veg
£3.95
Peri Peri Chicken
Whole breast of chicken marinated overnight & cooked in special peri peri sauce
£3.95
Prawn Puri
Well fried prawns, slightly spiced, served on homemade bread
£3.75
Salmon Tikka Starter
Tandoori home smoked salmon marinated in freshly ground aromatic herbs & spices
£4.95
Salmon Shashlik
Tender pieces of salmon marinated in freshly ground aromatic herbs & spices, garnished with fresh tomatoes & green peppers, onions cooked over charcoal fire
£11.95
Shashlik Chicken
Tender pieces of chicken OR lamb marinated in freshly ground aromatic herbs & spices, garnished with fresh tomatoes & green peppers, onions, cooked over charcoal fire
£8.95
Shashlik Lamb
Tender pieces of chicken OR lamb marinated in freshly ground aromatic herbs & spices, garnished with fresh tomatoes & green peppers, onions, cooked over charcoal fire
£8.95
King Prawn Shashlik
King prawns marinated in freshly ground aromatic herbs & spices, garnished with fresh tomatoes & green peppers, onions, cooked over charcoal fire
£13.95
Pink Garlic Special Grill
£14.95
Aloo Gobi
Potato & cauliflower
Veg
£3.45
Brinjal Bhaji
Aubergine
Veg
£3.45
Muttar Paneer
Peas & cheese
Veg
£3.45
Vegetable Tray
3 Dishes of your choice
£9.95
Tarka Daal
Lentils with garlic
Veg
£3.45
Saag Aloo
Spinach & potato
Veg
£3.45
Saag Paneer
Spinach & cheese
Veg
£3.45
Raita
Yoghurt, cucumber & onion
£3.45
Mixed Korai
Chicken, lamb, prawn & king prawn cooked in butter with specially prepared thick sauce, garnished with fresh tomatoes & cucumber
£11.95
King Prawn Korai
King prawn cooked in butter with specially prepared thick sauce, garnished with fresh tomatoes & cucumber
£12.95
Lamb Korai
Lamb cooked in butter with specially prepared thick sauce, garnished with fresh tomatoes & cucumber
£8.95
Chicken Korai
Chicken cooked in butter with specially prepared thick sauce, garnished with fresh tomatoes & cucumber
£8.95
Mixed Biryani
A combination of chicken, lamb & prawn
£11.95
Chicken Tikka Masala
Chicken tikka pieces cooked in butter, ground almonds, fresh cream & special masala sauce
£7.95
Chicken Chettinad
Chunks of chicken cooked with roasted peppercorns, coconut & mixed Indian seeds in a hot red chilli & tomato sauce
Very Hot
£8.95
Chicken Dhakeshwari
Tender pieces of chicken marinated in herbs & spice, garnished with mango pulp, ground almonds, very mild & creamy
£7.95
Agni Korai
Chicken cooked in specially prepared sauce, medium hot
Served in a flaming souk
£10.95
Butter Chicken
Tender pieces of chicken OR lamb cooked in butter with light spicy cream sauce
£7.95
Butter Lamb
Tender pieces of chicken OR lamb cooked in butter with light spicy cream sauce
£7.95
Jeera Chicken
Breast of chicken pieces cooked in cream & special masala sauce
Served with pilau rice
£10.95
Lahori Chicken
Grilled chicken OR lamb cooked with whole spice & a dry madras sauce
Hot
£8.95
Lahori Lamb
Grilled chicken OR lamb cooked with whole spice & a dry madras sauce
Hot
£8.95
Lamb Pasanda
Tender pieces of lamb marinated in fresh cream, ground almonds, freshly ground aromatic herbs & spices, cooked with pure ghee, very mild & creamy
Contain nuts
£7.95
Macher Jhol
Traditional Bengali fish curry
£9.95
Tandoori King Prawn Masala
King prawn cooked in butter, ground almonds, fresh cream & special masala sauce
£13.95
Shashlik Masala
Chicken & minced meat marinated in freshly ground aromatic herbs & spices, garnished with fresh tomatoes, green peppers & onions cooked over charcoal
£10.95
Balti Bhuna Chicken
Chicken OR lamb cooked in butter with special sauce, light & spicy garnished with fresh cucumber & tomatoes
£7.95
Balti Bhuna Lamb
Chicken OR lamb cooked in butter with special sauce, light & spicy garnished with fresh cucumber & tomatoes
£7.95
Balti Capsila Chicken
Chicken cooked with special aromatic herbs & spices with green peppers, tomatoes & onion
Medium hot
£9.95
Balti Jalfrezi Chicken
Pieces of chicken OR lamb cooked in butter with specially prepared sauce with green chillies, slightly hot, garnished with fresh tomatoes & cucumber
Hot
£9.95
Balti Jalfrezi Lamb
Pieces of chicken OR lamb cooked in butter with specially prepared sauce with green chillies, slightly hot, garnished with fresh tomatoes & cucumber
Hot
£9.95
Balti King Prawn Jalfrezi
King prawn cooked in butter with specially prepared sauce with green chillies, slightly hot, garnished with fresh tomatoes & cucumber
Hot
£12.95
Peshwari Naan
Stuffed with coconut & almonds
£2.45
Kulcha Naan
Stuffed with vegetable
£2.45
Keema Naan
Stuffed with mince meat
£2.45
Duck Bhatak Achari (Duck)
Breast of duck marinated in herbs & spice, cooked in tandoori then cut into thin strips & cooked in a special mixed pickle sauce
£12.95
Lamb Laziz
Tender lamb tikka immense overnight grout in a marinated of freshly ground spice
Prepared in a delectable sauce with chopped onions, garlic & Worcester sauce
£10.95
Jinga Garlic Supreme
Barbecued king prawn cooked with garlic, green chilli, diced onions, peppers, coriander & tomatoes with special homemade sauce
£13.95
Mughale-E-Bahar
Chunk of grilled chicken cooked with mince meat
£11.95
Manchurian Lamb
A fusion of Indian cooking.
This is wonderful chicken recipe & has a beautiful combination of flavours & tanginess from soya sauce & spice taste from curry powder
£11.95
Manchurian Chicken
A fusion of Indian cooking.
This is wonderful chicken recipe & has a beautiful combination of flavours & tanginess from soya sauce & spice taste from curry powder
£11.95
Machli Biran
Pieces of fish fillet rubbed with spicy paste & fresh dill, then sizzled in a cast iron platter with mustard oil
£11.95
Methi Gosht Special
Lamb cooked with spring onions, tomatoes & ginger with generous portion of fresh fenugreek, then tempered with garlic & whole roasted Indian spices
£8.95
Naga Chicken
Bhuna style chicken OR lamb cooked in a fiery naga pepper sauce
Very Hot
£8.95
Naga Lamb
Bhuna style chicken OR lamb cooked in a fiery naga pepper sauce
Very Hot
£8.95
Goan Machli Salan (Tilapia)
Pieces of fish fillet cooked with spicy tomato sauce, crushed peppercorns & ground turmeric creating a light & sharp dish
£10.95
King Prawn Mirchi
King prawns cooked with green chillies & grilled crushed whole spices, lemon juice, onions & fresh coriander in a juicy hot sauce
£13.95
Lamb Chop Achari
Grilled lamb chops cooked with black peppercorns, pickled chillies, ground spices, curry leaves & a hint of yoghurt
Hot
£10.95
Chicken Morisa
Grilled chicken cooked with green peppers, green chillies & a combination of crushed whole spices in a hot tantalising sauce
Hot
£8.95
Chicken Special
Selected small tender pieces of chicken breast tossed in an iron souk, with garlic, ginger, ground peppercorns & whole roasted spices forming a juicy medium hot sauce
£8.95
Chicken Achari
Grilled chicken cooked with black peppercorns, pickled chillies, ground spices, curry leaves & a hint of yoghurt & masala sauce
£8.95
Pink Garlic Special Masala
Baked boneless chicken tikka cooked to Pink Garlic's own special recipe
£9.95
Tandoori Garlic Chilli Chicken
Boneless tandoori chicken cooked with green chillies, roasted garlic in a masala yoghurt sauce
Hot
£9.95
Shatkora Chicken
Chicken cooked with calamansi (wild Bangladeshi lemon), selected herbs & spices, a truly aromatic dish
£8.95
Zamiri Chicken (Orange Chicken)
Escalopes of chicken breast grilled, then simmered in a rich sweet & spiced sauce of butter & a hint of tomato sauce & mainly cooked with whole orange to give that beautiful aromatic flavour
£9.95
Keema Rice
Minced meat & peas
£3.50
Bhuna Chicken
Well fried chicken, lamb OR prawn slightly spicy & dry
£6.95
Bhuna King Prawn
Well fried chicken, lamb OR prawn slightly spicy & dry
£9.95
Bhuna Lamb
Well fried chicken, lamb OR prawn slightly spicy & dry
£6.95
Bhuna Prawn
Well fried chicken, lamb OR prawn slightly spicy & dry
£7.95
Bhuna Vegetable
Well fried chicken, lamb OR prawn slightly spicy & dry
£5.50
Dansak Chicken
Cooked with lentils, slightly hot, sweet & sour flavour
Hot
£6.95
Dansak King Prawn
Cooked with lentils, slightly hot, sweet & sour flavour
Hot
£9.95
Dansak Lamb
Cooked with lentils, slightly hot, sweet & sour flavour
Hot
£6.95
Dansak Prawn
Cooked with lentils, slightly hot, sweet & sour flavour
Hot
£7.95
Dansak Vegetable
Cooked with lentils, slightly hot, sweet & sour flavour
Hot
£5.50
Dupiaza Chicken
Cooked with fresh onions, slightly spicy & dry
£6.95
Dupiaza King Prawn
Cooked with fresh onions, slightly spicy & dry
£9.95
Dupiaza Lamb
Cooked with fresh onions, slightly spicy & dry
£6.95
Dupiaza Prawn
Cooked with fresh onions, slightly spicy & dry
£7.95
Dupiaza Vegetable
Cooked with fresh onions, slightly spicy & dry
£5.50
Jalfrezi Chicken
Cooked with green peppers, onions & tomatoes, fried in butter then cooked in a sauce made from roasted ground spices, green chillies & a hint of natural yoghurt
Hot
£6.95
Jalfrezi King Prawn
Cooked with green peppers, onions & tomatoes, fried in butter then cooked in a sauce made from roasted ground spices, green chillies & a hint of natural yoghurt
Hot
£10.95
Jalfrezi Lamb
Cooked with green peppers, onions & tomatoes, fried in butter then cooked in a sauce made from roasted ground spices, green chillies & a hint of natural yoghurt
Hot
£6.95
Jalfrezi Prawn
Cooked with green peppers, onions & tomatoes, fried in butter then cooked in a sauce made from roasted ground spices, green chillies & a hint of natural yoghurt
Hot
£7.95
Jalfrezi Vegetable
Cooked with green peppers, onions & tomatoes, fried in butter then cooked in a sauce made from roasted ground spices, green chillies & a hint of natural yoghurt
Hot
£5.95
Pathia Chicken
Fairly hot dish cooked with onions & tomatoes producing a sweet & sour taste
Hot
£6.95
Pathia King Prawn
Fairly hot dish cooked with onions & tomatoes producing a sweet & sour taste
Hot
£9.95
Pathia Lamb
Fairly hot dish cooked with onions & tomatoes producing a sweet & sour taste
Hot
£6.95
Pathia Prawn
Fairly hot dish cooked with onions & tomatoes producing a sweet & sour taste
Hot
£7.95
Pathia Vegetable
Fairly hot dish cooked with onions & tomatoes producing a sweet & sour taste
Hot
£5.50
Korma Chicken
Cooked with fresh cream, very mild & creamy
£6.95
Korma King Prawn
Cooked with fresh cream, very mild & creamy
£9.95
Korma Lamb
Cooked with fresh cream, very mild & creamy
£6.95
Korma Prawn
Cooked with fresh cream, very mild & creamy
£7.95
Korma Vegetable
Cooked with fresh cream, very mild & creamy
£5.50
Vindaloo Chicken
Very Hot
£5.95
Vindaloo King Prawn
Very Hot
£9.25
Vindaloo Vegetable
Very Hot
£4.95
Sagwala Chicken
Cooked with fresh spinach, well fried & dry
£6.95
Sagwala King Prawn
Cooked with fresh spinach, well fried & dry
£9.95
Sagwala Lamb
Cooked with fresh spinach, well fried & dry
£6.95
Sagwala Prawn
Cooked with fresh spinach, well fried & dry
£7.95
Sagwala Vegetable
Cooked with fresh spinach, well fried & dry
£5.50
Rogan Chicken
Marinated in various herbs & spices, cooked with fresh tomato
£6.95
Rogan King Prawn
Marinated in various herbs & spices, cooked with fresh tomato
£9.95
Rogan Lamb
Marinated in various herbs & spices, cooked with fresh tomato
£6.95
Rogan Prawn
Marinated in various herbs & spices, cooked with fresh tomato
£7.95
Rogan Vegetable
Marinated in various herbs & spices, cooked with fresh tomato
£5.50
Contact Us
Find Us
32 Chatterton Road, Bromley, BR29QN
We deliver to
BR1, BR2, BR3, BR4, BR5, BR6, BR7